Every Canadian Reference in the MADE | NOUS Promo
If you haven't already seen the MADE l NOUS promo that premiered during ETALK LIVE AT THE OSCARS red carpet broadcast, then you're missing out on some very patriotic feels. Watch the minute-long ode to Canadian directors, actors, writers, and creators here:
In case you missed any of those details, we're breaking down every Canadian reference made.
One of Hollywood's top leading men was born here, in London, Ontario. That man is Ryan Gosling. His critically acclaimed 2011 film Drive is referenced in this next shot, in which the unnamed driver adjusts the wristwatch on his steering wheel before making a daring getaway.
The fellow Oscar nominee mentioned is Rachel McAdams, referenced here in a signature pink outfit from her iconic role as Regina George in the high school comedy Mean Girls. She was nominated for Best Supporting Actress in for her role in the 2016 film Spotlight.
This upside-down building is Séminaire Saint-Joseph de Trois-Rivières, the secondary school where Quebecois director Denis Villeneuve studied before he made his big screen debut. Since then he's gone on to direct critically acclaimed films such Incendies and Polytechnique, and blockbusters including Prisoners, Sicario, and Blade Runner 2049. He won the Academy Award for Best Director in 2016 for his work on Arrival.
The lady in a hurry is French-Canadian actress Karine Vanasse, best known for her leading role in the Canadian crime drama Cardinal. Could her on-screen role as Lise Delorme be investigating the suspicious character in the next shot? Karine narrates the French version of this promo.
The "different kind of club" mentioned here is Dallas Buyers Club, directed by Jean-Marc Vallée from Montreal. This film was nominated for 6 Academy Awards in 2013, half of which it took home.
The caped character standing here is Ezio, from Assassin's Creed. He stands on the roof of Ubisoft's studios in Montreal, where this hugely successful video game franchise is developed, along with many others. The ad was shot on Halloween of last year, and photos of the rooftop character caused quite a stir online.
This is Canada's most precious export, Jacob Tremblay. At only 12 years old, he already has a handful of major titles under his belt. He made his breakout performance in Room, a co-production between Canada, Ireland, the U.K., and the United States. He stars in the R-rated Good Boys, produced by fellow Canadian Seth Rogen, coming out later this year. The helmet on his dresser is a reference to another one of his films, Wonder. He appears to be playing Starlink: Battle for Atlas on the Nintendo Switch, another game developed by Ubisoft's Montreal studio.
The show about clones that brought an Emmy to the prairies is none other than the Canadian sci-fi series Orphan Black starring lead actress Tatiana Maslany who grew up in Regina, Saskatchewan. She won numerous awards and nominations for her portrayal of several distinct and complex personalities throughout the series, including at the Geminis, Screen Actors Guild Awards, Canadian Screen Awards, and Primetime Emmys.
Toronto is a regular filming location for the dystopian Hulu/Bell series, The Handmaid's Tale. The series is based on Canadian author Margaret Atwood's novel of the same name.  Just this past week, film crews were seen filming a gruesome public hanging seen in front of Nathan Phillip's Square.
Finn Wolfhard is the young actor from the west coast that left his hometown of Vancouver to fight demogorgons in the hit Netflix series Stranger Things. Since then he has starred in the remake of Stephen King's IT, which filmed in Ontario, has gone on tour with his indie rock band, Calipurnia, and starred in a Weezer music video for their cover of Aha's Take On Me.
The VR studio featured here is the Emmy Award-winning Felix & Paul Studios, headquartered in Montreal. Felix & Paul are responsible for some of the most widely experienced VR experiences in the world as seen at massive Hollywood activations as well as available at home on Oculus Rift, YouTube and even Facebook. Their ever-expanding portfolio includes the Jurassic World: Blue experiences, numerous Cirque du Soleil's experiences, and plenty of immersive documentary style ways to experience space, nature, and people.
The "f*%$ing foul-mouth superhero" referenced here is a nod to Deadpool, brought to life by Canada's second A-list Ryan, Ryan Reynolds. He attended Kitsilano Secondary in Vancouver, pictured here, before making it big in Hollywood.
In that last impressive montage we see 5-seconds packed with shots from HBO's Vikings, an Irish-Canadian co-production; Spider-Man: Into the Spiderverse, which was largely animated by a Vancouver-based team; the FIFA video game series, created by Ubisoft developers in Montreal; the Cardinal television series, created by Canadians for CTV and starring a French-Canadian female lead; award-winning Canadian sci-fi series Orphan Black; Academy Award Best Picture The Shape of Water, famously filmed in Toronto; Vancouver actor Finn Wolfhard as seen in Stranger Things; Catherine O'Hara in CBC sitcom Schitt's Creek; Emmy-winning Canadian actress Sandra Oh in Killing Eve; unabashedly Canadian comedy Letterkenny; and a glimpse of Markham, Ontario actor Mena Massoud in the upcoming Aladdin live-action.
Lastly, did you recognize the voice narrating the English version of the spot? That voice belongs to Canadian legend Christopher Plummer. His 60-year long career spans over 100 films, over 60 television roles, stage plays and even voice acting for video games.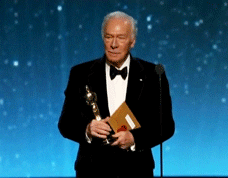 Canadian creators and storytellers contribute to some of the most exciting, innovative, and universally enjoyed entertainment in the world, and it's time that we start taking credit for it! Explore more Canadian connections from your favourite movies, TV shows and video games at made-nous.ca and share your Canadian pride with #ThisIsMADE!